En anglais, nous avons du faire un diaporama pour illustrer le poème de Deirdre Barry, « My day and Yours ». Pour chaque phrase, j'ai trouvé avec l'aide de ma soeur des paroles de chansons…
I'm 18, and years older than that.
I'm 18, and I can't believe I'm that old.
I get up before sunrise, because I have to be at work.
I get up at 6, because I need time to do my hair and makeup before school.
I walk two miles to work, the blisters on my feet open from wear.
I drive to school, and walk carefully, because I need to keep my shoes clean.
I spend my day inside a factory, with hundreds of other girls, unable to take breaks, and unable to leave.
I spend my day in classes, wanting only to get out.
I would give anything to go to school, to learn, to be able to get somewhere in life.
I would give anything to be done with school. Who cares anyway?
I would quit, but I can't. I have parents, brothers and sisters to support, and jobs are hard to find.
I'd drop out, but then my parents would be angry.
At 4:00, we get a five minute break for water, and then it's back for more work.
At 3:30, we get out, and I head for basketball practice.
I sew the Swoosh on, time after time, hour after hour, until my fingers bleed, and my knuckles ache. I earn barely enough to live, and not even near enough to help my family.
I lace up my Nikes, my new ones. They cost me only 130 $ and everyone has a pair.
I sew pair after pair, trying to earn enough to buy food and clothes. I want out, but it's such a vicious cycle. I want to get out, but I always need to work a little more before I have enough.
These shoes hurt my feet. I think I'll buy a new pair.
voici le diapo :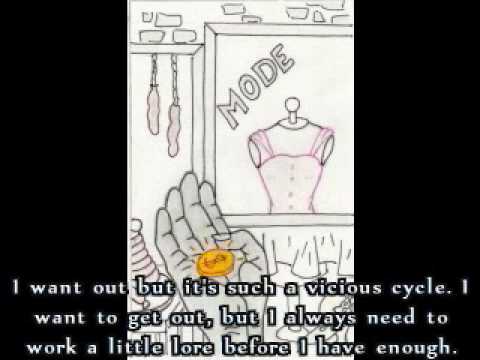 Voici les dessins que j'ai fait (avec ma soeur) pour l'illuster…